Shopping Cart
Your Cart is Empty
There was an error with PayPal
Click here to try again
Thank you for your business!
You should be receiving an order confirmation from Paypal shortly.
Exit Shopping Cart
| | |
| --- | --- |
| Posted on January 20, 2015 at 8:05 PM | |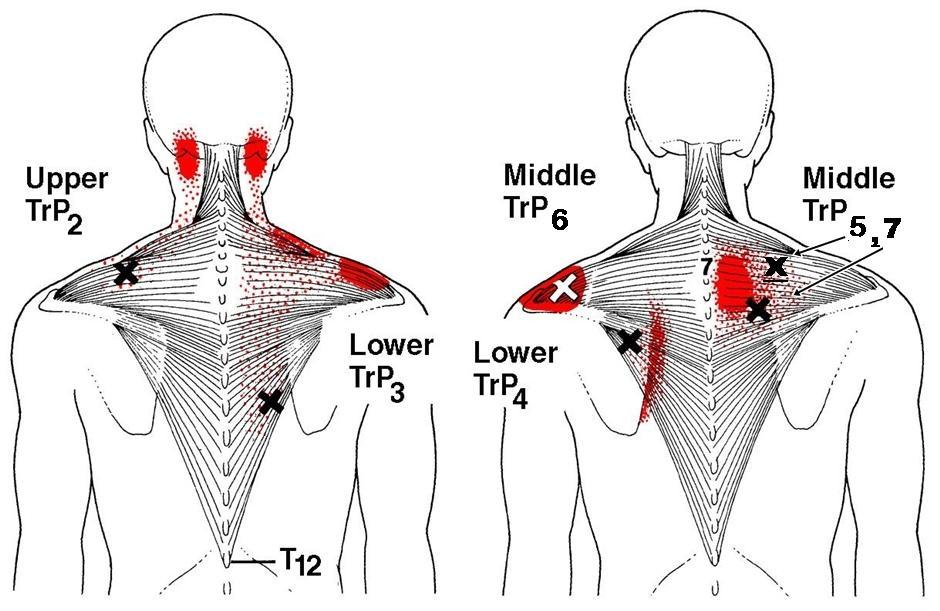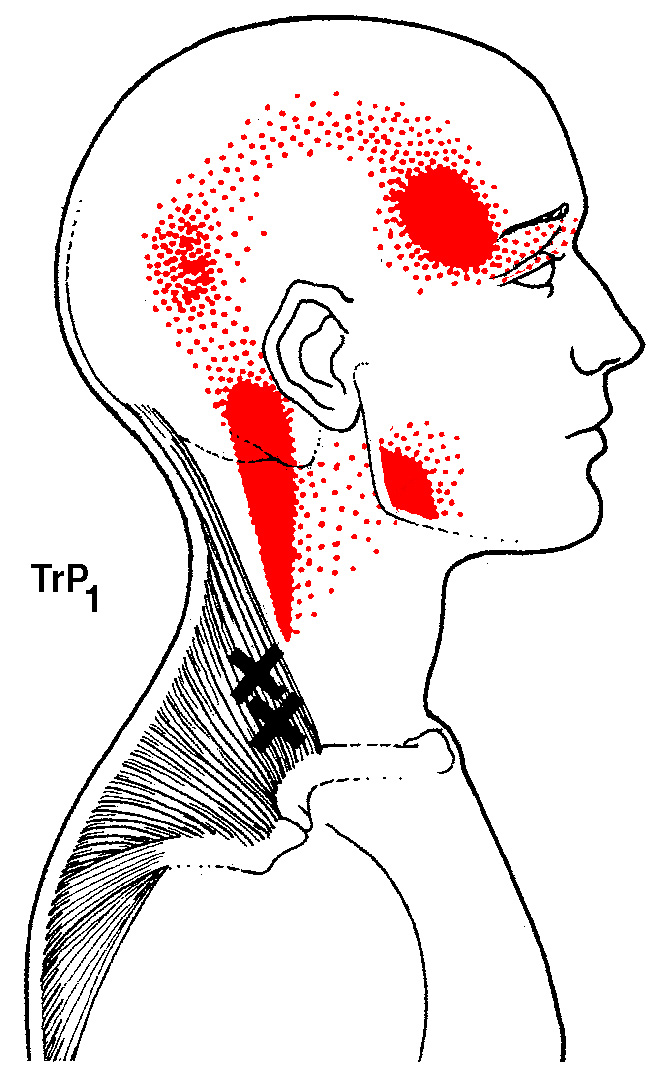 The trapezius commonly contains trigger points, and referred pain from these trigger points bring patients to the office more often than for any other problem. As you can see from the picture, the trapezius is a large kite-shaped muscle, covering much of the back and posterior neck.
There are three main parts to the muscle: the Upper, middle, and lower trapezius, and each part has its own actions and common symptoms.
Common Symptoms
Upper Trapezius
headaches on the temples / "tension" headaches
facial, temple, or jaw pain
pain behind the eye
dizziness or vertigo (in conjunction with the sternocleidomastoid muscle)
severe neck pain
a stiff neck
limited range-of-motion
intolerance to weight on your shoulders
Middle Trapezius
mid-back pain 
headaches at the base of your skull 
TrP5 refers superficial burning pain close to the spine
TrP6 refers aching pain to the top of the shoulder near the joint 
Lower trapezius
mid-back, neck, and/or upper shoulder region pain 
possibly referral on the back of the shoulder blade, down the inside of the arm, and into the ring and little fingers (TrP7), very similar to a serratus posterior superior referral pattern
headaches at the base of the skull 5
TrP3 can refer a deep ache and diffuse tenderness over the top of the shoulder 6
Causes and Perpetuation of Trigger Points
one leg shorter than the other
a hemipelvis that is smaller on one side (the part of the pelvis you sit on)
short upper arms (which causes you to lean to one side to use the armrests)
large breasts
fatigue
tensing your shoulders
cradling a phone between your ear and shoulder
a chair without armrests, or the armrests are too high
typing with a keyboard too high
sewing on your lap with your arms unsupported
jogging
sleeping on your front or back with your head rotated to the side for a long period
playing a violin 
sports activities with sudden one-sided movements
sitting without a firm back support (sitting slumped)
backpacking
bike-riding
kayaking
any profession or activity that requires you to bend over for extended periods (i.e.. dentists/hygienists, architects/draftsmen, and secretaries/computer users) 
bra straps that are too tight (either the shoulder straps or the torso strap)
a purse or daypack that is too heavy
a mis-fitting, heavy coat 
carrying a day pack or purse over one shoulder -- even if you think you are not hiking up one shoulder, you are, no matter how light the item
whiplash (a car accident, falling on your head, or any sudden jerk of the head) 10
head-forward posture 
walking with a cane that is too long
turning your head to one side for long periods to have a conversation 
tight pectoralis major muscles 
Often times, we can address these trigger points in 1-2 sessions and by eliminating these, patients see a drastic redution in neck, and headache pain as well as an immediate increase in AROM. Contact us today to set up an evaluation!!! 502-771-1774
Categories: Manual Therapy, Dry Needling, Manipulative Therapy
/