Shopping Cart
Your Cart is Empty
There was an error with PayPal
Click here to try again
Thank you for your business!
You should be receiving an order confirmation from Paypal shortly.
Exit Shopping Cart
| | |
| --- | --- |
| Posted on January 22, 2016 at 12:50 AM | |
A hidden cause of neck pain, headaches and tension
Your computer or workstation can cause you pain.
Do you have headaches, stress or tension? Do these symptoms occur especially while at work or at the end of the day?
Your workstation, desk or computer environment may be the cause, or a major contributor factor to your pain and discomfort. Some of the problems your sitting posture can contribute to are headaches, neck pain, eye pain, shoulder knots & tension, back pain, wrist pain, carpal tunnel syndrome and fatigue. If you maintain a sustained posture throughout the day it can create patterns of myofascial and muscle tightens that can contribute to pain elsewhere in your body.
Sitting down all day shortens your hip flexors, pecs and suboccipital muscles and sticks your head forward, allowing these muscles to tighten over time and cause or contribute to pain and restrictions in your body.
A few things you can do to address these issues and prevent problems:
1) Take frequent stretch breaks from your work area.
• Put your hands behind your head and stretch backwards over the edge of your chair to open up your chest, front of your neck and to extend your spine backwards.  
• Cross your legs, pull the top leg into your chest for a hip stretch.  Then twist, towards the same side as your top leg, to look behind you.  This should feel good.  Repeat on the other side.
• Put your hands on your desk and arch your back like a "cat."  Then round your back the other way, stomach forward, like a "cow." viola… desk yoga. (wink wink)
2) Get up and walk around the office at least once an hour.  Take wellness break and go outside and get a breath of fresh air, go to the water fountain for a sip of water or "take a lap" around your office to get your blood flowing again and muscles moving.
3) Sit with your keyboard, mouse and computer monitor in front of you. You should sit with both feet on the floor, your hips slightly above your knees, your back supported, elbows at your side and hands comfortably on the keyboard. The top edge of your monitor should be the same level as your eyebrows and it should be about 18″ away from you
4) If you wear bifocals and need to use the lower lens at your computer, it may cause you to extend your neck too far back. To reduce this, invest in a dedicated pair of glasses for when you sit at your computer.
5) If you talk or use the phone for your job holding a telephone between your head and shoulder is asking for neck and shoulder pain. Invest in or ask your employer for a "hands free" headset. This will give you the freedom to sit with good posture at your desk and easier use of both hands.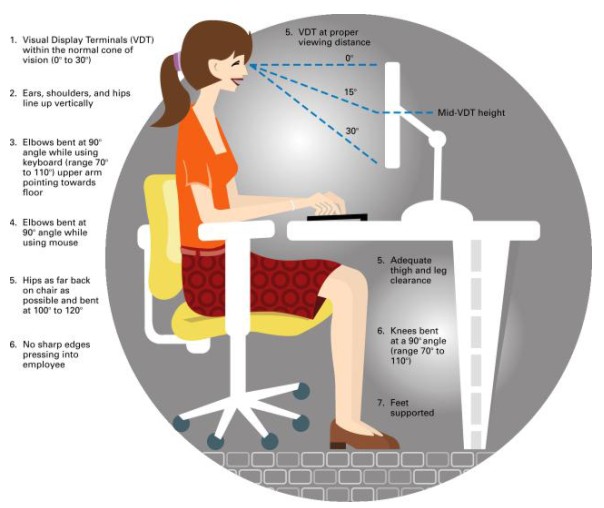 | | |
| --- | --- |
| Posted on August 9, 2015 at 1:55 PM | |
When pain is predictably provoked by mechanical stress, and eased by its alleviation, we quickly implicate a mechanical, or at least peripheral, nociceptive mechanism, and apply diagnoses like mechanical low-back pain that justify our favoured peripherally directed interventions. While the logic is attractive, what if central processes could mediate this presentation? Centrally mediated pain masquerading as peripheral.
We recently investigated the idea of centrally-mediated mechanical symptoms (Harvie et. al 2015 PDF). The study involved twenty-four people with the type of persistent neck pain problems seen in everyday practice, and all with pain on rotation. They performed head rotation to their first onset of pain (P1), in three virtual-reality conditions where the amount of rotation that they saw did not match reality. Instead, the viewed rotation was more or less than was actually occurring, creating an illusion of movement that was different to actual movement. Remarkably, pain with movement depended not only on how far people actually moved, but how far it appeared they had moved (see figure and explanation in caption below).
Mean (circle) and 95% confidence interval (error bars) for the range of motion to first onset of pain presented as a proportion of the mean range of rotation for the neutral condition. When the visual feedback suggested less movement, the first onset of pain (P1) was delayed by 6%, when the visual feedback suggested more movement, P1 7% sooner.
That pain with movement can be reliably modulated by the (visual) suggestion of more or less movement (i.e. by a non-mechanical input) is significant, and prompts us to reconsider the mechanical presentation.
In the past, perceptions such as pain were simply considered a read-out of incoming information. However, it has become clear that we could not make sense of the world if sensory information was not first filtered and arranged by our subconscious. In the case of visual perception, for example, the infinite array of colours, edges and shapes are arranged by our subconscious into the meaningful objects that we see and understand. Certain rules seem to govern this process — such as the way objects are arranged according to continuity of lines, colour and motion. The rules that govern the construction of pain, while only recently receiving attention, appear to involve the brains analysis of information relating to bodily danger. Nociception is the most obvious signal of danger to the body — but not the only one. Specific movements for example, might also become signals of bodily danger because of their meaning derived from association with injury. This would explain how (visual) signals of movement may have come to be a contributor to pain in these people with neck pain.
While ample research supports the idea that signals of threat influence pain, this study suggests specifically that information about the body in space (whether visual, proprioceptive or vestibular) that has been associated with an injury, might be relevant signals of threat. Indeed their influence may even result in a clinical pattern that appears mechanical, but is in fact centrally driven.
The treatment of threatening pain-associations is an ongoing field of study. In the meantime I think that there are a few things we can do to better align clinical practice with the threat-based understanding of pain that this finding aligns with. Firstly, we can expand our minds and clinical assessments to identify both nociceptive and non-nociceptive sources of threat (guaranteed we wont treat something we don't assess!). Secondly, we can leverage our skills in education and behaviour therapy to encourage thoughts and actions that counter threat.
| | |
| --- | --- |
| Posted on March 20, 2015 at 8:35 AM | |
| | |
| --- | --- |
| Posted on November 8, 2014 at 1:15 PM | |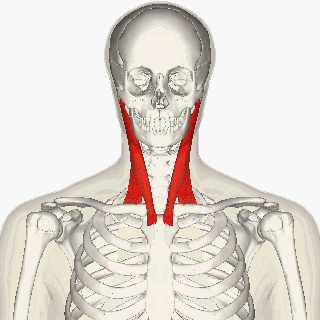 Sternocleidomastoid
The sternocleidomastoid (SCM) is one of my favorite muscle groups to work with, mainly because the results can be simply extraordinary. Trigger point activity in this muscle can cause a bewilderingly set of symptoms, with many being confusingly similar to the symptoms associated with the common (no aura) migraine headache.
Make no mistake, these are the "go-to" trigger points when a client presents with any type of headache pain, but they can also produce such diverse symptoms as a dry cough, sore throat, sinus pain, excessive eye tearing, visual disturbances, fainting, and dizziness / vertigo.
Anatomical Highlights:
Each SCM group has two divisions that originate off the mastoid process behind the ear. The sternal division runs diagonally downward to attach to the sternum, while the clavicular division attaches right behind it on the medial clavicle.
Acting unilaterally, contraction of the SCM muscle turns the head towards the opposite side, while bilateral contraction flexes the neck and head forward.
The most important function of the SCM is to control and monitor the head's position in space. Proprioceptive feedback from the SCM is essential to being able to maintain one's balance, and is also important for interpreting visual information.
A secondary function of the SCM is to assist inhalation by lifting the rib cage.
Biomechanical Highlights:
The SCM muscles work synergistically with the trapezius and scalene muscles during lateral flexion of the neck, and with the scalene muscles during forced inhalation.
The trapezius muscle is antagonistic during forward neck flexion.
The Sternocleidomastoid Trigger Points
The SCM muscle group's trigger point density is one of the highest in the body. Usually, both divisions have simultaneous trigger point activity, but on occasion, I'll have a client with trigger points only in the sternal division. Trigger points typically develop in one SCM muscle group first, but quickly spread to the SCM on the opposite side of the neck.
Sternocleidomastoid Pain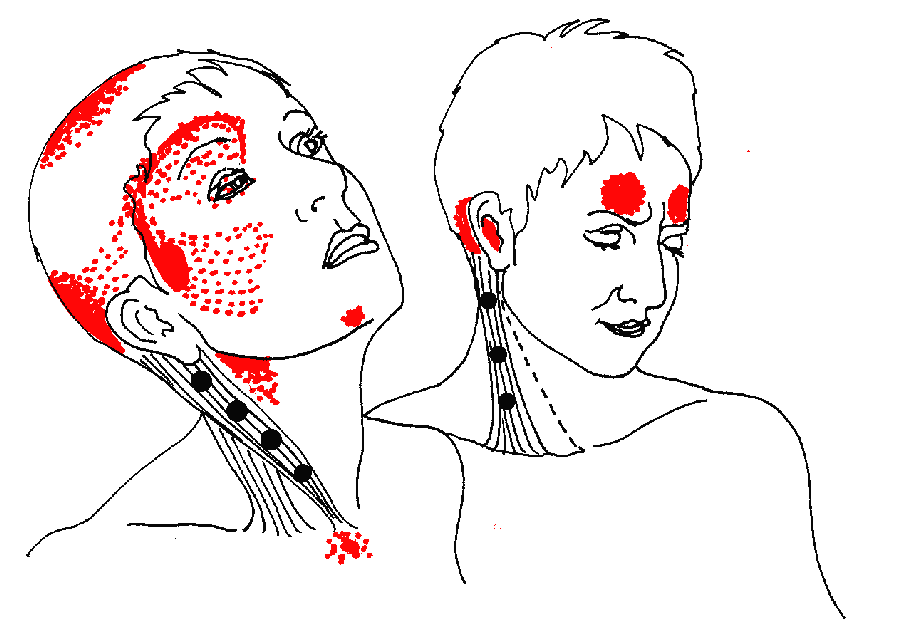 Each SCM division has a separate and distinct referred pain pattern:
The sternal division's referred pain is felt deep in the eye socket (behind the eye), above the eye, in the cheek region, around the temporomandibular joint (TMJ), in the upper chest, in the back of the head, and on the top of the head.
The clavicular division's referred pain is felt in the forehead, deep in the ear, behind the ear, and in the molar teeth on the same side. The really strange thing about this pain presentation is that the forehead pain may extend across the midline of the forehead to the other side.
Sternocleidomastoid Symptoms & Disorders
The SCM trigger points are unique in that they can produce a copious amount of symptoms that appear to have nothing to do with the musculoskeletal system. Listed below are some of symptoms and disorders that can be produced by these trigger points:
Tension Headache: A common, but debilitating, headache that is typically attributed to perceived muscle tension in the neck and cranial muscles. The duration of these headaches can vary from 30 minutes to several days, and may occur daily in chronic cases.
Migraine Headache: The SCM trigger points can produce many of the symptoms associated with non-aura migraine headaches, such as visual disturbances, muscle tenderness, and unilateral (one-sided) headache pain.
Hangover Headache: The dehydration caused by excessive alcohol intake can activate trigger points in the SCM and trapezius muscles and produce the dreaded "hangover" headache.
Atypical Facial Neuralgia: Pain in the cheek, jaw, and temple regions.
Sore throat and Pain on Swallowing: The middle trigger point in the sternal division can produce pain at the base of the tongue that makes it difficult and/or painful to swallow.
Visual Disturbances: Trigger points in the sternal division commonly produce blurred vision, double vision, and a dimming of perceived light intensity.
Eye Problems such as a drooping eye-lid (ptosis), excessive eye tearing and/or reddening of one or both eyes.
Forehead Sweating: sweating on one side of the forehead, above the eye.
Dizziness & Vertigo: Dizziness when moving the head, such as lifting it to turn over in bed, or when tilting it backward to look at something above. Seasickness or car sickness are typically a problem, and quick movements of the head may cause fainting and/or nausea.
Hearing Impairment: Trigger points in the clavicular division may cause moderate deafness or "ringing" in one ear.
Sore Neck: While the SCM trigger points don't refer pain to the neck, clients with these trigger points will often rub their necks to alleviate soreness in the region.
Upper Chest Pain: The lower trigger point in the sternal division may refer pain to the upper chest bone region.
What Causes Sternocleidomastoid Trigger Points?
In my clinical experience, trigger points in the SCM muscles are frequently caused by trigger point activity in the trapezius muscle, particularly if the trapezius trigger points are left untreated for an extended period. Both muscle groups can be overloaded by similar physical and behavioral stressors, which include:
Whiplash from a car accident can put extraordinary stress on the SCM muscles as they contract to control the violent backward movement of the head.
Working Overhead: Activities that require one to look upwardly for long periods of time, such as painting a ceiling, can overstretch the SCM muscles.
Forward-Head Posture: The all-too-common forward-head, slumped-shoulder postural distortion keeps the SCM muscles in an unnaturally shortened position, making them prone to developing trigger points.
Sleeping Position: Sleeping with the head flexed forward because the pillow is to big (or using two pillows), or with the head turned, can put strain on these muscles.
Chronic Cough: The SCM can be overloaded by repeatedly lifting the chest and ribcage during inhalation while coughing.
Tight Collar: Physical pressure from a tight neck-tie or collar may irritate SCM trigger points.
Limping: Limping on one leg for extended periods may overload the SCM as it tries to compensate for a leaning trunk and keep the eyes level.
Treatment of SCM Trigger Points
A trained clinician in trigger point release and or dry needling can reduce or completely remove trigger points in this muscle and alleviate many of the symptoms above.
For more information contact Bluegrass Doctors of Physical Therapy PLLC
**Images courtesy of Wikipedia
| | |
| --- | --- |
| Posted on September 6, 2014 at 1:50 PM | |
Welcome to Bluegrass Doctors of Physical Therapy, PLLC Blog! In this blog we will review many common conditions and symptoms related to muskuloskeltal pain and dysfunction. Every few weeks will be a new topic!
Todays blog is about one of the many headache conditions we treat: Migraine Headaches.
Migraine headaches often begin in childhood, adolescence or early adulthood. Migraines may progress through four stages, including prodrome, aura, headache and postdrome, though you may not experience all the stages.
Prodrome
One or two days before a migraine, you may notice subtle changes that signify an oncoming migraine, including:
Constipation
Depression
Food cravings
Hyperactivity
Irritability
Neck stiffness
Uncontrollable yawning
Aura
Aura may occur before or during migraine headaches. Auras are nervous system symptoms that are usually visual disturbances, such as flashes of light. Sometimes auras can also be touching sensations (sensory), movement (motor) or speech (verbal) disturbances. Most people experience migraine headaches without aura. Each of these symptoms usually begins gradually, builds up over several minutes, and then commonly lasts for 20 to 60 minutes. Examples of aura include:
Visual phenomena, such as seeing various shapes, bright spots or flashes of light
Vision loss
Pins and needles sensations in an arm or leg
Speech or language problems (aphasia)
Less commonly, an aura may be associated with limb weakness (hemiplegic migraine).
Attack
When untreated, a migraine usually lasts from four to 72 hours, but the frequency with which headaches occur varies from person to person. You may have migraines several times a month or much less often. During a migraine, you may experience the following symptoms:
Pain on one side or both sides of your head
Pain that has a pulsating, throbbing quality
Sensitivity to light, sounds and sometimes smells
Nausea and vomiting
Blurred vision
Lightheadedness, sometimes followed by fainting
Postdrome
The final phase, known as postdrome, occurs after a migraine attack. During this time you may feel drained and washed out, though some people report feeling mildly euphoric.
- Mayo clinic website**
/