Shopping Cart
Your Cart is Empty
There was an error with PayPal
Click here to try again
Thank you for your business!
You should be receiving an order confirmation from Paypal shortly.
Exit Shopping Cart
| | |
| --- | --- |
| Posted on January 20, 2015 at 8:05 PM | |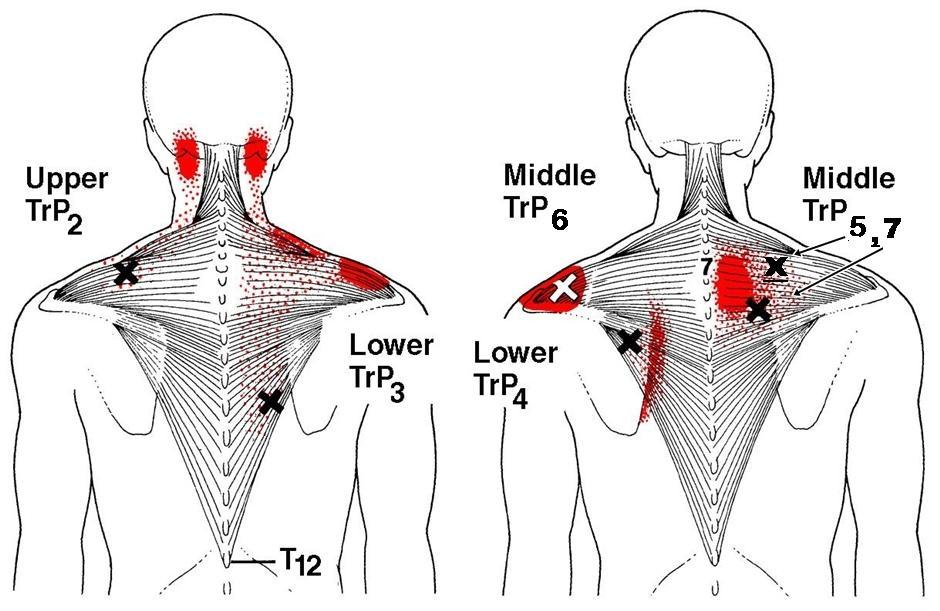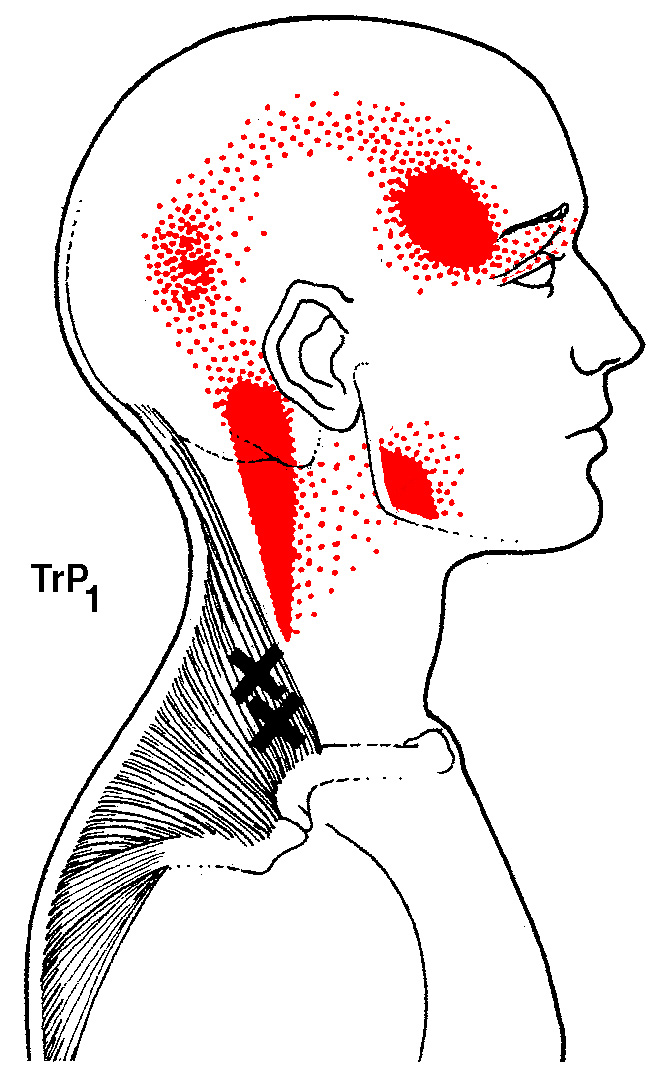 The trapezius commonly contains trigger points, and referred pain from these trigger points bring patients to the office more often than for any other problem. As you can see from the picture, the trapezius is a large kite-shaped muscle, covering much of the back and posterior neck.
There are three main parts to the muscle: the Upper, middle, and lower trapezius, and each part has its own actions and common symptoms.
Common Symptoms
Upper Trapezius
headaches on the temples / "tension" headaches
facial, temple, or jaw pain
pain behind the eye
dizziness or vertigo (in conjunction with the sternocleidomastoid muscle)
severe neck pain
a stiff neck
limited range-of-motion
intolerance to weight on your shoulders
Middle Trapezius
mid-back pain 
headaches at the base of your skull 
TrP5 refers superficial burning pain close to the spine
TrP6 refers aching pain to the top of the shoulder near the joint 
Lower trapezius
mid-back, neck, and/or upper shoulder region pain 
possibly referral on the back of the shoulder blade, down the inside of the arm, and into the ring and little fingers (TrP7), very similar to a serratus posterior superior referral pattern
headaches at the base of the skull 5
TrP3 can refer a deep ache and diffuse tenderness over the top of the shoulder 6
Causes and Perpetuation of Trigger Points
one leg shorter than the other
a hemipelvis that is smaller on one side (the part of the pelvis you sit on)
short upper arms (which causes you to lean to one side to use the armrests)
large breasts
fatigue
tensing your shoulders
cradling a phone between your ear and shoulder
a chair without armrests, or the armrests are too high
typing with a keyboard too high
sewing on your lap with your arms unsupported
jogging
sleeping on your front or back with your head rotated to the side for a long period
playing a violin 
sports activities with sudden one-sided movements
sitting without a firm back support (sitting slumped)
backpacking
bike-riding
kayaking
any profession or activity that requires you to bend over for extended periods (i.e.. dentists/hygienists, architects/draftsmen, and secretaries/computer users) 
bra straps that are too tight (either the shoulder straps or the torso strap)
a purse or daypack that is too heavy
a mis-fitting, heavy coat 
carrying a day pack or purse over one shoulder -- even if you think you are not hiking up one shoulder, you are, no matter how light the item
whiplash (a car accident, falling on your head, or any sudden jerk of the head) 10
head-forward posture 
walking with a cane that is too long
turning your head to one side for long periods to have a conversation 
tight pectoralis major muscles 
Often times, we can address these trigger points in 1-2 sessions and by eliminating these, patients see a drastic redution in neck, and headache pain as well as an immediate increase in AROM. Contact us today to set up an evaluation!!! 502-771-1774
| | |
| --- | --- |
| Posted on December 14, 2014 at 9:15 AM | |
Common Misconceptions about Physical Therapy
You Can Choose!
It is a common misconception that you have to go where your doctor refers you. In Kentucky you do not have to obtain a referral to see a Physical Therapist, but there are some insurance plans that require you to have such. However, you are still able to go to a facility of your choice. Bluegrass Doctors of Physical Therapy receives the majority of our patient referrals from Friends & Family spreading the word. Not all physicians refer based on where they think you will get the best care, there may be other reasons for why they send you to a certain clinic. Take the time to do your research. We have many local community physicians that refer to us as well our past & current patients. If we are not the best clinic to receive treatment from for your condition we will be sure to refer you to a specialty clinic that is. Now that's real care!
Hospitals cost you more! Often times physicians will refer a patient to a hospital or physician owned therapy practice. What they don't tell you is that this often cost the patient more. Hospitals and physician owned practices often have higher negotiated rates with insurance companies than private practices typical do, and that means the higher the rate the more you pay.
In-Network Providers are not always best!
Most insurance companies require providers to drastically reduce their rates in order to join the insurance companies network or be considered an In-Network provider. Lowering fees means that the providers have to find creative ways to keep quality up but at the same time keep treatments affordable for the business which can be difficult. We currently have patients who have most major insurances but refuse to allow those insurance companies to dictate the care our patients receive. so if it will not financially allow us to provide our patients with the best care we can offer. Our patients getting well is our number one priority and we will do all we can to continue to offer that care while remaining affordable.
Don't Just Trust Your Body To Anyone, or Your Recovery!
Not all Providers are the same. In fact many professionals that are not even licensed in physical therapy say they offer physical therapy services. These providers usually will just offer exercises without even looking at what may be CAUSING your pain or condition. Physical Therapists are specialist in movement and the neuro-musculoskeletal system, meaning they are experts in how all of the components of your nerves, muscles and bones interact with each other and how they may cause dysfunction and pain. This is why it can be very disadvantageous to receive services from someone that does not specialize in physical therapy or from a physical therapist that does not specialize in your specific condition. With many surgical repairs there is a small window of opportunity for optimal recovery and if you are not receiving top notch care during that time frame it can negatively affect the recovery permanently. Some important questions to ask when choosing a therapist would be:
1.) What type of patients or cases do you see most?
2.) Am I going to receive one-on-one care?
3.) Are you familiar with my condition and symptoms?
Don't let your provider eat up your visits!
Depending on your rehabilitation needs some episodes will take just a few visits to recover while others will require an extended amount. However, there is typically a norm for how many visits it will take to recover. If you feel that you are not seeing much improvement it never hurts to obtain a second opinion. Often times, people wait until all of their yearly visits have been used up or they have utilized all of their funds before they realize the provider they were seeing may not have been the best provider for that particular case.
At Bluegrass Doctors of Physical Therapy our mission is to provide you with excellent care and fast results. We recognize everyone is different and that is why on your first visit we will perform a thorough evaluation with you to find out what is causing your specific issue and design an unique treatment plan based off of your specific needs and goals for your therapy. And as always treatment starts DAY ONE!
| | |
| --- | --- |
| Posted on November 12, 2014 at 7:45 PM | |
Understanding Disc Bulges
Disc bulge, commonly referred to as herniated nucleus pulposas (HNP) is a condition that relates to the spine. HNP can be caused by immediate trauma or injury (sports injury, auto accidents, etc.), as well as long term trauma (improper posture). Discs are located between each of the vertebral bodies of the spine. The discs are the shock absorbers of the body. They also help to give the spine more movement and flexibility as we twist and bend.
The discs are shaped like a hockey puck and are made up of cartilage, which is tough and leather-like. Each disc is made similar to an onion, in that they are layered in rings (the annulus). At the very center of each disc is a watery, gelatin-like center. This center is called the nucleus. In general, the discs have a high content of water and this is what gives them their flexibility. As we age, the discs lose some of their water content and become less flexible. This makes the layers of the "onion skin" more brittle and weaker.
As we participate in activities that place us in a bent or "flexed" position (sitting, driving, reading, watching TV, etc.), the low back can lose its natural curve and pressure from the nucleus can be exerted on the back side of the discs. Over time, one layer at a time of the "onion skin" (annulus) splits or cracks and the gelatinous center moves closer to the outside. Eventually this nucleus begins to distort the shape of the disc causing the disc to bulge. This can happen to the direct backside but most often is slightly to one side or the other (in rare cases the bulge can be on the front side).
The pain is caused because the back side of the disc has many nerves. Another factor is that the spinal cord is directly behind the disc and as the bulge increases, it begins to irritate the nerves that are attached to the spinal cord. In the low back, these nerves travel down the leg. This can cause feelings of pain as far down as the foot and toes, as well as numbness or tingling in the leg and foot.
One way to help with this problem is by beginning extension exercises. By arching the low back, pressure can be taken off the back side of the disc. If this is done with frequency, the layers of the annulus can begin to heal and can form scar tissue. As the disc heals, the bulges reduce in size and take the pressure off the nerves, decreasing or eliminating the symptoms.
Another item that can keep the low back in its proper curve is a lumbar roll. The lumbar roll is placed behind the low back while you sit, and helps keep the back in its proper curve.
Your doctor of physical therapy will show you the exercises best suited to your situation and if you have further questions make an appointment today!
| | |
| --- | --- |
| Posted on September 6, 2014 at 1:50 PM | |
Welcome to Bluegrass Doctors of Physical Therapy, PLLC Blog! In this blog we will review many common conditions and symptoms related to muskuloskeltal pain and dysfunction. Every few weeks will be a new topic!
Todays blog is about one of the many headache conditions we treat: Migraine Headaches.
Migraine headaches often begin in childhood, adolescence or early adulthood. Migraines may progress through four stages, including prodrome, aura, headache and postdrome, though you may not experience all the stages.
Prodrome
One or two days before a migraine, you may notice subtle changes that signify an oncoming migraine, including:
Constipation
Depression
Food cravings
Hyperactivity
Irritability
Neck stiffness
Uncontrollable yawning
Aura
Aura may occur before or during migraine headaches. Auras are nervous system symptoms that are usually visual disturbances, such as flashes of light. Sometimes auras can also be touching sensations (sensory), movement (motor) or speech (verbal) disturbances. Most people experience migraine headaches without aura. Each of these symptoms usually begins gradually, builds up over several minutes, and then commonly lasts for 20 to 60 minutes. Examples of aura include:
Visual phenomena, such as seeing various shapes, bright spots or flashes of light
Vision loss
Pins and needles sensations in an arm or leg
Speech or language problems (aphasia)
Less commonly, an aura may be associated with limb weakness (hemiplegic migraine).
Attack
When untreated, a migraine usually lasts from four to 72 hours, but the frequency with which headaches occur varies from person to person. You may have migraines several times a month or much less often. During a migraine, you may experience the following symptoms:
Pain on one side or both sides of your head
Pain that has a pulsating, throbbing quality
Sensitivity to light, sounds and sometimes smells
Nausea and vomiting
Blurred vision
Lightheadedness, sometimes followed by fainting
Postdrome
The final phase, known as postdrome, occurs after a migraine attack. During this time you may feel drained and washed out, though some people report feeling mildly euphoric.
- Mayo clinic website**
/