Shopping Cart
Your Cart is Empty
There was an error with PayPal
Click here to try again
Thank you for your business!
You should be receiving an order confirmation from Paypal shortly.
Exit Shopping Cart
| | |
| --- | --- |
| Posted on June 29, 2019 at 9:30 PM | |
Upper trapezius and its referral sources
The trapezius commonly contains trigger points, and referred pain from these trigger points bring patients to the office more often than for any other problem. As you can see from the picture, the trapezius is a large kite-shaped muscle, covering much of the back and posterior neck.
There are three main parts to the muscle: the Upper, middle, and lower trapezius, and each part has its own actions and common symptoms.
Common Symptoms
Upper Trapezius
headaches on the temples / "tension" headaches
facial, temple, or jaw pain
pain behind the eye
dizziness or vertigo (in conjunction with the sternocleidomastoid muscle)
severe neck pain
a stiff neck
limited range-of-motion
intolerance to weight on your shoulders
Middle Trapezius
mid-back pain
headaches at the base of your skull
TrP5 refers superficial burning pain close to the spine
TrP6 refers aching pain to the top of the shoulder near the joint
Lower trapezius
mid-back, neck, and/or upper shoulder region pain
possibly referral on the back of the shoulder blade, down the inside of the arm, and into the ring and little fingers (TrP7), very similar to a serratus posterior superior referral pattern
headaches at the base of the skull 
Sime points can refer a deep ache and diffuse tenderness over the top of the shoulder 
Causes and Perpetuation of Trigger Points
one leg shorter than the other
a hemipelvis that is smaller on one side (the part of the pelvis you sit on)
short upper arms (which causes you to lean to one side to use the armrests)
large breasts
fatigue
tensing your shoulders
cradling a phone between your ear and shoulder
a chair without armrests, or the armrests are too high
typing with a keyboard too high
sewing on your lap with your arms unsupported
jogging
sleeping on your front or back with your head rotated to the side for a long period
playing a violin
sports activities with sudden one-sided movements
sitting without a firm back support (sitting slumped)
backpacking
bike-riding
kayaking
any profession or activity that requires you to bend over for extended periods (i.e.. dentists/hygienists, architects/draftsmen, and secretaries/computer users)
bra straps that are too tight (either the shoulder straps or the torso strap)
a purse or daypack that is too heavy
a mis-fitting, heavy coat
carrying a day pack or purse over one shoulder -- even if you think you are not hiking up one shoulder, you are, no matter how light the item
whiplash (a car accident, falling on your head, or any sudden jerk of the head) 10
head-forward posture
walking with a cane that is too long
turning your head to one side for long periods to have a conversation
tight pectoralis major muscles
The Trapezius is a very important shoulder girdle muscle that is often overlooked as the cause of long term chronic pain. 
| | |
| --- | --- |
| Posted on April 5, 2017 at 10:15 AM | |
Here is a microspcopic view of a filament needle at various stages of "use". Many people "re-use" their needles to save money. Needles are Cheap (relatively speaking)...people aren't. Get a NEW NEEDLE.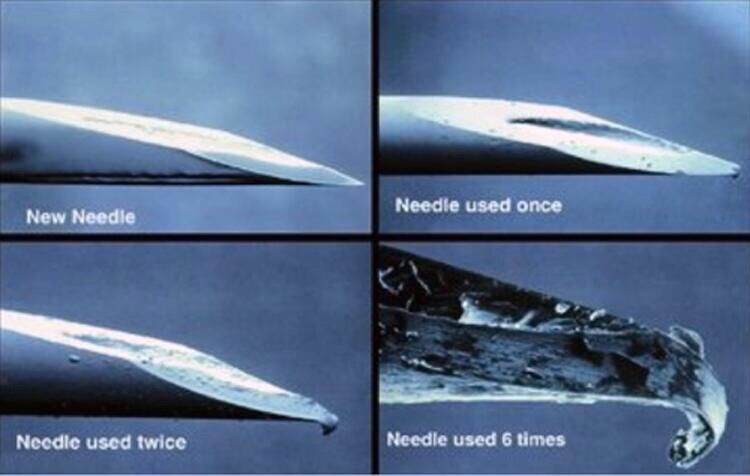 | | |
| --- | --- |
| Posted on February 7, 2017 at 7:55 AM | |
Mini Workouts You Can Do At Work!
What does exercise have to do with running a successful healthcare business?
More than you think. Everyone knows exercise has significant health benefits, but what about its cognitive benefits?
Research shows that regular exercise dramatically improves job performance and productivity. According to a study cited in Harvard Business Review, it "enables us to soak in more information, work more efficiently, and be more productive." Here are some of the perks:
Improved concentration
Sharper memory
Faster learning
Prolonged mental stamina
Enhanced creativity
Lower stress
Although many healthcare professionals know and preach the benefits of exercise, finding the extra time to do it themselves can be a challenge. They're already overstretched and overworked as it is, running a successful healthcare business and taking care of family responsibilities. But, there is a solution!
Make short bursts of exercise part of your daily routine. A few minutes every couple of hours isn't going to sabotage your schedule or quality of patient care. In fact, it will increase your energy and focus, so you can deliver the level of care and service your patients and customers deserve.
Other Ways To Sneak In Exercise At Work
Do a set of 20 push-ups every morning when you wake up.
While you're waiting to use the bathroom at work, do 30 squats.
Set your timer to go off every 30 minutes to an hour. Then, run up and down the stairs or do push-ups for 1 minute.
Ride your bike to work.
Grab a fellow employee and take a walk around the block or the parking lot.
Park farther away, so you increase the number of steps you walk.
Take the stairs instead of the elevator.
For your next meeting, have a walk-and-talk around the block or parking lot.
Have a daily or weekly push-up challenge with everyone at the office.
Before each meeting, have everyone do 30 squats or 30 push-ups.
Run up and down the stairs for 3 minutes 3 times a day.
Switch out your office chair for a stability ball.
All It Takes Is A Few Minutes A Day
Research shows it can take as little as 10 minutes a day to see results. You may not become the next Ironman, but you and your medical team will be in better shape to deliver quality care and superior service.
| | |
| --- | --- |
| Posted on December 17, 2016 at 9:05 AM | |
The global burden of chronic pain has reached epidemic proportions; furthermore, it is estimated that 136 million Americans are currently suffering with chronic pain.1 Despite this large number, the diagnosis and management of conditions such as Fibromyalgia Syndrome (FMS) remains poorly understood, widely criticized, and routinely mistreated by physical therapists and medical physicians alike. The use of dry needling is described in the literature as a novel and potentially effective intervention for treating FMS. Despite the evidence supporting neuronal plasticity and centrally-mediated changes in chronic pain, the traditional conservative interventions for FMS have exhausted light exercise, gentle mobilization, and/or electro-thermal modalities, with little more than poor patient outcomes. Perhaps it is time to change the way we treat chronic pain and utilize the best possible evidence to guide us in delivering the highest quality of care for conditions such as FMS.
A large body of evidence supports that exercise has little to no benefit in patients with FMS, and further, that chronic muscle pain appears to worsen with exercise.2,3 McVeigh et al found 85% of patients with FMS reported increased fatigue and pain following exercise.4 Therefore, perhaps the repetitive movement or "more exercise for everyone" model does not fit all categories or patient conditions.
The concept of neuroplasticity, or the structural and functional cortical changes related to chronic pain states, has been described by multiple sources.7,8 Neurophysiologic changes have been identified at multiple levels of the central nervous system including the spinal cord, brainstem, and cortex.9,10,11,12 Coghill et al found specific brain areas of increased activation in chronic pain states including the anterior cingulate cortex, primary somatosensory cortex and prefrontal cortex.9 Yu et al reported specific disruptions in functional connectivity at enkephalin producing pain control centers of the periaqueductal gray in chronic pain conditions.13 Moreover, the mechanism of hypersensitivity has been found to largely occur at the dorsal horn involving wide-dynamic-range neurons (WDR).14 WDR neurons are regulated by diffuse noxious inhibitory controls (DNIC) via the subnucleus reticularis dorsalis in the caudal medulla.14
Patients with FMS are thought to have defective DNIC systems; that is, the WDR neurons, which are responsible for innocuous and noxious stimuli, develop increased receptive fields, thus increasing the region of perceived pain.14 Disrupted brain circuitry has been described by Loggia et al who articulates that decreased activation of the periaqueductal gray area in the midbrain accounts for decreased descending pain modulation in patients with FMS.15 Two studies reported augmented pain processing in patients with FMS via disruptions of cortical areas responsible for the anticipation, attention, and emotional manifestation of pain.16, 17
The role of myofascial trigger points in FMS has been largely utilized in identifying the diagnosis. The biochemical properties of myofascial trigger points, including localized acidity and the increase in inflammatory mediators, may contribute to peripheral changes in patients with FMS.18 That is, sustained peripheral nociceptive input may sensitize dorsal horn neurons and supraspinal structures leading to hyperalgesia, allodynia, and referred pain.19
Peripheral and centrally-mediated changes associated with dry needling have been described in the literature; furthermore, dry needling to specific distal points in the upper or lower extremities has been found to activate sensorimotor cortical networks and deactivate limbic-paralimbic areas.20, 21 Deactivation of limbic areas following dry needling is thought to affect the sensory, cognitive, and affective dimensions of pain.20 Studies utilizing fMRI have demonstrated that dry needling at specific distal points activates the descending pain centers including the PAG.22 Moreover, dry needling with electric stimulation has been shown to activate enkephalinergic inhibitory interneurons, thereby modulating central pain.19 In addition, dry needling has also been found to reduce pain by peripheral mechanisms. One recent study found peripheral opioid receptors contribute to the anti-nociceptive effects of electrical dry needling via activation of cannabinoid CB2R receptors.23 Moreover, the stimulation of ATP release and the subsequent activation of adenosine A1 receptors via electrical dry needling is thought to sharply reduce inflammatory and neurogenic pain.24
The use of dry needling to target solely trigger points within muscles has been challenged.25 Several authors have articulated that the effectiveness of dry needling lies in the mechanical disruption of the integrity of dysfunctional endplate at the neuromuscular junction.19 That is, dry needling to the endplate region is thought to cause increased discharges, decrease acetylcholine stores, and thus reduce spontaneous electrical activity.19 However and importantly, not all patients with fibromyalgia have trigger points, and not all patients with trigger points develop FMS.26 Some investigators have distinguished the "tender points" associated with fibromyalgia from trigger points—i.e. tender points may lack taught bands.27 Given that skeletal muscle in patients with FMS has been shown to have altered oxygen utilization,28 perhaps dry needling can be useful to help improve muscle vascularity and oxygenation, and hence reduce sustained peripheral nociception.29,30
Nevertheless, the efficacy for the use of dry needling in patients with FMS is limited; that is, to date, there are few high methodologic quality studies on the topic. Two recent systematic reviews provide conflicting evidence for the use of acupuncture (i.e. the insertion of needles without injectate without the intent of moving qi along traditional Chinese meridians) in FMS—i.e. both concluding further high quality research is needed before definitive conclusions can be made in regards to efficacy.31,32 In a randomized controlled trial, Deluze et al found electroacupuncture provided significant improvements in pain perception and sleep quality (limbic system) in patients with FMS.33 Additionally, a recent systematic review and meta-analysis found that dry needling may be effective in the immediate and short-term in patients with upper quarter myofascial pain syndrome.34
REFERENCES
1 Tsang A , Von Korff M, Lee S, Alonso J, Karam J. Common Chronic Pain Conditions in Developed and Developing Countries: Gender and Age Differences and Comorbidity With Depression-Anxiety Disorders. Pain. 2009;10(5): 553.
2 Fricton J. Myofascial pain. Baillière's Clinical Rheumatology. 1994;8(4): 857-880.
3 Mengshoel AM, Vollestad NK, Forre O: Pain and fatigue induced by exercise in fibromyalgia patients and sedentary healthy subjects. Clin Exp Rheumatol. 1995;13: 477-482.
4 Vierck, C, Staud R, Price D. The Effect of Maximal Exercise on Temporal Summation of Second Pain (Windup) in Patients With Fibromyalgia Syndrome. Pain. 2001;2(6): 334-344.
5 Hebb, D. O. Organization of behavior. New York: Wiley. Journal of Clinical Psychology. 1950;6(3): 307-307.
6 Melzack R, Wall P. Pain Mechanisms: A New Theory. Science. 1965; 150(3699): 971-978.
7 Melzack, Ronald, Terence J. Coderre, Joel Katz, and Anthony L. Vaccarino. Central Neuroplasticity and Pathological Pain. Annals of the New York Academy of Sciences. 2001; 157-74.
8 Wand, Benedict Martin, Luke Parkitny, Neil Edward O'Connell, Hannu Luomajoki, James Henry Mcauley, Michael Thacker, and G. Lorimer Moseley. Cortical Changes in Chronic Low Back Pain: Current State of the Art and Implications for Clinical Practice. Manual Therapy. 2011; 15-20.
9 Coghill R, McHaffie J, Yen Y. Neural correlates of interindividual differences in the subjective experience of pain. Proceedings of the National Academy of Sciences. 2003;100(14): 8538-8542.
10 Sandkühler J. Understanding LTP in pain pathways. Molecular Pain. 2007;3(1): 9.
11 Tinazzi M, Fiaschi A, Rosso T, et al. Neuroplastic changes related to pain occur at multiple levels of the human somatosensory system: A somatosensory-evoked potential study in patients with Cervical Radicular pain. The Journal of Neuroscience. 2000; 20(24): 9277–9283.
12 Benoist J, Gautron M, Guilbaud G. Experimental model of trigeminal pain in the rat by constriction of one infraorbital nerve: changes in neuronal activities in the somatosensory cortices corresponding to the infraorbital nerve. Experimental Brain Research. 1999;126(3): 383-398.
13 Yu R, Gollub R, Spaeth R, Napadow V, Wasan A, Kong J. Disrupted functional connectivity of the periaqueductal gray in chronic low back pain. NeuroImage: Clinical. 2014;6: 100-108.
14 Van Wijk G, Veldhuijzen D. Perspective on Diffuse Noxious Inhibitory Controls as a Model of Endogenous Pain Modulation in Clinical Pain Syndromes. The Journal of Pain. 2010;11(5): 408-419.
15 Loggia M, Berna C, Kim J et al. Disrupted Brain Circuitry for Pain-Related Reward/Punishment in Fibromyalgia. Arthritis & Rheumatology. 2014;66(1): 203-212.
16 Gracely R, Petzke F, Wolf J, Clauw D. Functional magnetic resonance imaging evidence of augmented pain processing in fibromyalgia. Arthritis & Rheumatism. 2002;46(5): 1333-1343.
17 Burgmer M, Pogatzkizahn E, Gaubitz M, et al. Altered brain activity during pain processing in fibromyalgia. NeuroImage. 2009;44(2): 502-508.
18 Shah JP, Danoff JV, Desai MJ et al. Biochemicals associated with pain and inflammation are elevated in sites near to and remote from active myofascial trigger points. Arch Phys Med Rehabil. Jan 2008;89(1): 16-23.
19 Cagnie B, Dewitte V, Barbe T, Timmermans F, Delrue N, Meeus M. Physiologic effects of dry needling. Current pain and headache reports. Aug 2013;17(8): 348.
20 Chae Y, Chang DS, Lee SH, et al. Inserting needles into the body: a meta-analysis of brain activity associated with acupuncture needle stimulation. J Pain. Mar 2013;14(3): 215-222.
21 Biella G, Sotgiu ML, Pellegata G, Paulesu E, Castiglioni I, Fazio F. Acupuncture produces central activations in pain regions. Neuroimage. Jul 2001;14: 60-66.
22 Hui K, Liu J, Marina O et al. The integrated response of the human cerebro-cerebellar and limbic systems to acupuncture stimulation at ST 36 as evidenced by fMRI. NeuroImage. 2005;27(3): 479-496.
23 Su T, Zhang L, Peng M et al. Cannabinoid CB2 Receptors Contribute to Upregulation of β-endorphin in Inflamed Skin Tissues by Electroacupuncture. Molecular Pain. 2011;7(1): 98.
24 Goldman N, Chen M, Fujita T et al. Adenosine A1 receptors mediate local anti-nociceptive effects of acupuncture. Nat Neurosci. 2010 July; 13(7): 883–888.
25 Dunning J, Butts R, Mourad F, Young I, Flannagan S, Perreault T. Dry needling: a literature review with implications for clinical practice guidelines. Physical Therapy Reviews, 2014; 19(4): 252-265.
26 Castro-Sanchez A, Aguilar-Ferrandiz M, Mataran-Penarrocha G, Sanchez-Joya M, Arroyo-Morales M, Fernandez-de-las-Penas C. Short-term effects of a manual therapy protocol on pain, physical function, quality of sleep, depressive symptoms, and pressure sensitivity in women and men with fibromyalgia syndrome. Clin J Pain. 2014;30: 589-597.
27 Chae Y, Chang DS, Lee SH, et al. Inserting needles into the body: a meta-analysis of brain activity associated with acupuncture needle stimulation. J Pain. Mar 2013;14(3): 215-222.
28 Melzack R, Stillwell DM, Fox EJ. Trigger points and acupuncture points for pain: correlations and implications. Pain.1977;3: 3-23.
29 Cagnie B, Barbe T, De Ridder E, et al. The influence of dry needling of the trapezius muscle on muscle blood flow and oxygenation. J Manipulative Physiol Ther. 2012;35(9): 685–91.
30 Sandberg M, Larsson B, Lindberg LG, et al. Different patterns of blood flow response in the trapezius muscle following needle stimulation (acupuncture) between healthy subjects and patients with fibromyalgia and work-related trapezius myalgia. Eur J Pain. 2005;9(5): 497–510.
31 Mayhew E, Ernst E. Acupuncture for fibromyalgia—a systematic review of randomized clinical trials. Rheumatology. 2007;46 (5): 801-804.
32 Bai J, Guo Y, Wang H, et al. Efficacy of acupuncture on fibromyalgia syndrome: a Meta-analysis. J Tradit Chin Med. August 2014; 34(4): 381-391.
33 Deluze C, Bosia L, Zirbs A, Chantraine A, Vischer TL. Electroacupuncture in fibromyalgia: results of a con- trolled trial. BMJ. 1992;305: 1249-1252.
34 Kietrys DM, Palombaro KM, Azzaretto E, et al. Effectiveness of dry needling for upper-quarter myofascial pain: a systematic review and meta-analysis. J Orthop Sports Phys Ther 2013;43: 620-634.
| | |
| --- | --- |
| Posted on November 14, 2016 at 4:35 PM | |
https://www.expertise.com/ky/louisville/physical-therapists" target="_blank">/www.expertise.com/ky/louisville/physical-therapists
Please Check out the Link Above For more information and how Bluegrass Doctors of Physical Therapy was selected.
Thanks to everyone who has supported us over the last few years. We hope to continue elevating your healthcare experience each and every day!  
| | |
| --- | --- |
| Posted on October 26, 2016 at 11:50 AM | |
I have just read a wonderful book, provided to me by one of my patients. It details many causes of dysautonomia. It has a patient side and a physician side which discusses the topics of each chapter in clear language from both a lay perspective and professional perspective. Wonderful resrouce to anyone who is struggling with chornic pain, "wonky" symptoms (my word...;) ) or anything that just seems to confound many practioners. Almost eveyr person who has had some type of chronic pain has some form of sensitization. I have experienced this myself with abdominal pain. There is hope though and we can begin to reverse aspects of this disorder. 
Take a look at the link below for more info. Of course we at Bluegrass Doctors of PT will always be resources to our patients on this topic. 
https://www.amazon.com/Dysautonomia-Project-Understanding-Autonomic-Physicians/dp/1938842243

| | |
| --- | --- |
| Posted on July 20, 2016 at 9:55 AM | |
Wearable Reduces ACL Injuries in Female Study Subjects
Published on July 11, 2016
http://www.dreamstime.com/royalty-free-stock-photo-uefa-female-soccer-championship-2009-italy-hungary-image10426435
Technology may offer a way to control the significantly higher occurrences of ACL injury among young women who play soccer. A new report shows that using a wearable neuromuscular (WNM) as part of a training protocol helped substantially reduce ACL injuries in recent testing.
According to the study, presented recently at the American Orthopaedic Society for Sports Medicine's (AOSSM) Annual Meeting in Colorado Springs, Colo, athletes who used the devices in combination with a regular training program showed functional improvements.
"Our study showed that training with a wearable neuromuscular (WNM) device improved postural control in athletes, without limiting performance," says Michael John Decker, PhD, from the University of Denver in Denver, in a media release from AOSSM. "Moreover, no athletes in the study experienced an ACL injury during training or over the course of the following season."
In the study involving 79 elite youth and collegiate female soccer players (ages 12 to 25), participants trained with a WNM device that applied bilateral, topical pressure to the medial quadriceps and hamstring muscles. The preseason training program with the device lasted 7 to 9 weeks, and consisted of strength and conditioning exercises and on-field team practices.
"Research has shown female soccer players have a three times greater risk of ACL injury compared to males, yet only a small portion of soccer coaches are currently utilizing ACL injury risk reduction programs," Decker states in the release. "We hope these devices offer coaches a practical means to overcome participation barriers, opening the door for more organizations and teams to implement similar programs."
[Source(s): American Orthopaedic Society for Sports Medicine, Science Daily]
| | |
| --- | --- |
| Posted on May 15, 2016 at 7:10 PM | |
Great post about our system in general. This is exactly why my employers are MY PATIENTS and I will continue to achieve greater results for THEM. 
Thanks to all my patients!!!!
Dr. B. 
Imagine going to your favorite restaurant. You are greeted at the door by the hostess, who seats you and takes your drink order. You order through your favorite waiter, Andrew, who recommends the special of the day: prime rib with a dinner salad and a chocolate torte for dessert. Soon after, the food is brought out and it is delicious! You have time to enjoy your food. You then receive the bill and pay for your meal, returning to your home satisfied, all your dining needs met. Let's say, for simplicity's sake, you paid $75 for this meal: $50 for the steak, $10 for the salad and $15 for the dessert.
A change then occurs in the restaurant industry. A new form of eating out has been adopted. Your favorite restaurant has now contracted with over 30 "different restaurant insurance companies."
Anticipating another pleasant dining experience, your return to the restaurant with your new "subscribers card." You pay your $5 "copay." You sit in the foyer of the restaurant. You wait an hour, even though you made reservations. A harried Andrew greets you and quickly takes your order after you briefly glance at the menu. The food arrives at your table. As you take your second bite, Andrew informs you that "your time is up" and the table is reserved for another party. You are escorted outside with your hastily boxed left-overs.
What has happened to the restaurant? Behind the scenes, the restaurant owner has learned some tough realities of the "new system." During the first month of taking insurance, the owner sends a form to the insurance company requesting payment for the $75 steak dinner: $50 for the steak, $10 for the salad and $15 for the torte. The contract with the insurance company already states that they will only pay $45 for the $50 steak, but the owner decides that the extra customers brought to the restaurant by contracting with this insurance company will more than off-set this small loss.
The first attempt at collecting the $75 dollars for the full meal is returned unpaid with the note that it was rejected due to a "coding error." The forms for payment from the insurance company require the owner to list the parts of the meal, not by name, but by the numerical codes. The owner had listed the salad by the wrong numerical code. No suggestions for the correct code are offered, so the restaurant owner purchases a series of books, at a cost of $500, to learn how to assign the correct code to the different parts of the meals. These books will need to be bought annually due to the constant changing of the code numbers. After 30 minutes of study, the owner realizes the dinner salad should be coded as a 723.13, not the723.1 the owner originally put on the form. The salad, it turns out, needed to have two digits after the decimal point, indicating that it was a dinner salad, and not a "main course" salad. The owner mails the corrected form.
In response to the second request for payment, the insurance company does not send a check, but a detailed questionnaire: Was garlic used in seasoning the steak? Was it necessary to use garlic for this particular recipe? Did the restaurant ask for permission to use garlic from the insurance company before serving the steak? Why was salt, a less expensive alternative, not used instead? The owner submits the answers, emphasizing that the garlic is part of a secret family recipe that made the restaurant famous.
The owner waits another week (it has now been 3 weeks since the dinner was served). The check arrives three and a half weeks after the meal was served. The check is for $20 and states that it is specifically for the steak. The check also comes with a letter stating that no billing of the patron may occur for the salad, but no other explanation is enclosed. No mention is made of the $15 dessert.
The now frustrated restaurant owner calls the provider service number listed in the contract. After five separate phone calls to five different numbers (The harried voice behind phone call number four explains that the insurance company has merged with another insurance company and the phone numbers had all changed last week, sorry for the inconvenience…), the owner gets to ask why, when the contract says the steak will be paid at $45, has the check only been written for $20? And what happened to the payment for the $10 salad and the $15 dessert?
As it turns out, this particular patron's insurance contract only pays $45 when the patron has reached their deductible, which this patron has not at this time. The remaining portion of payment for the steak must now be billed by the restaurant to the patron directly.
The $10 for the salad would have been paid if the patron had ordered it on a different day, but, per page 35 in the contract, because it was billed on the same day as the steak, it is considered to be part of the payment for the steak and no extra money can be collected from the patron or the insurance company.
The dessert, the owner learns, should have had a "modifier" number put with its particular billing code when billed with the steak and the salad.
Realizing that the insurance billing is quite a bit harder than anticipated, the restaurant owner hires a company, who is paid 5% of any money collected to specifically make sure these coding errors do not occur again and follow up on payment rejections. For an additional $99 per month, the billing company will "scrub" the forms submitted for payment to make sure specific clerical errors will not cause future delays in payment.
The owner now must lay off the hostess and the bus boy to pay the billing company, so these duties are now added to the waiter's other responsibilities.
In the meantime, the restaurant owner has also had the waiter take on the job of answering the phones due to the now high volume of phone calls from patrons questioning why they are receiving bills for meals they ate over two months ago, and why did their insurance company not pay for this portion of the meal? This extra work is now resulting in longer times patrons must wait to be seated, and grumblings from the waiters who "were not hired or trained to do this kind of work."
The owner now realizes that, although the dinner originally cost $75 to make, only $25 has been paid. The remaining $30 billed to the patron is now in its third mailing, with the first two requests for payment going unanswered by the patron. The restaurant owner realizes a collection agency must be employed in order to have any hope of receiving any portion of payment from the patron.
Each meal served now costs at least an additional $20 due to the added overhead of the billing company, coding books, and the collection agency. These added expenses have nothing to do with cooking food or providing any direct service to the restaurant's customers.
Service to the restaurant's patrons has been compromised with these changes as well. The owner has now over-extended the waiter, who was an excellent waiter, but is now taking on the roles of host, phone answering and table bussing.
In order to even meet the costs of providing fine dining, the restaurant owner now must seat twice as many patrons in the same amount of time.
What was once an outstanding business that focused on fine dining and customer service has now been turned into a business in the business of trying to get paid.
Alas, I wish this were a fictional tale, but it is not. The only fictional portion is that this is not your favorite restaurant, but your favorite doctor's office, which is responsible not for meeting your dining needs, but those of your health.
| | |
| --- | --- |
| Posted on March 25, 2016 at 7:40 PM | |
Direct Physical Therapy Access Could Reduce Healthcare Costs
A policy brief from the Health Care Cost Institute reports that Individuals with lower back pain who received physical therapy had reduced healthcare costs.
When it comes to healthcare costs, the federal government, medical providers, and payers are attempting to reduce rising spending and adopt value-based care reimbursement.  A number of different strategies have been implemented including bundled payment models and accountable care organizations. In the realm of physical therapy, patients with lower back pain could benefit from reduced healthcare costs.
A policy brief from the Health Care Cost Institute reports that Individuals with lower back pain who received physical therapy had reduced healthcare costs when compared to patients who visited with another provider first. Patients who visited a physical therapist at the beginning of their treatment were less likely to end up in an emergency room. A lower likelihood of emergency department visits also produces hospitalization costs.
Since low back pain is a very common occurrence in the healthcare setting and a likely contribution to disability, these findings are key to reducing medical spending across the industry. In fact, $90.6 billion in direct healthcare costs are spent on treating back pain throughout the United States.
The study authors focused on analyzing beneficiary claims data from six states including Oregon, Washington, Wyoming, Alaska, Idaho, and Montana. The researchers  looked at claims data  showing three different groups of people including those who never saw a physical therapist, those who saw a physical therapist later in their treatment, and those who immediately received physical therapy.
The study found that patients who saw a physical therapist first were also less likely to be prescribed a painkiller when compared to others who saw a different type of clinician. The policy brief emphasizes that visiting with a physical therapist first will reduce the use of costly healthcare services and thereby cut spending across the board.
Researchers from the University of Washington and the George Washington University also found that taking away state restrictions on physical therapy could improve health outcomes among those on opioid prescriptions as well as enhance imaging. Individual states should consider addressing restrictions on direct physical therapy access, according to the policy brief.
State restrictions on physical therapy access could affect overall healthcare costs by impacting the use of differing medical services. Essentially, in order to reduce healthcare costs, state policymakers should allow patients direct access to physical therapy without physician referral, according to the study.
"The findings from this study suggest that seeing a physical therapist as the first point of care compared to seeing a physical therapist at a later point in time (or not seeing a PT) reduces utilization of potentially costly services," the study from the Health Care Cost Institute stated.
"Of particular interest was the significant decrease in opioid prescription, ED visits, and imaging for those patients receiving PT first. The potential reduction in opioid prescriptions is notable given the increasing awareness on the overprescription of opioids and the high risk of substance abuse. These findings suggest that having access to PT could have an impact on healthcare costs including out-of-pocket costs across all settings."
While reducing healthcare costs is an imperative within the medical industry, quality care and patient needs come first. However, a study from the American Physical Therapy Association shows that patient needs may not come first in a referral-for-profit environment.
The study illustrates that patients who obtained physical therapy services from a clinic owned by their original physician received twice as many PT visits as compared to patients who were referred to physical therapy not affiliated with the referring surgeon. The therapy was also less customized and less intensive, the researchers found.
"When there is referral-for-profit, and from this data as related to group therapy and an extended number of visits, it stands to reason there is increased risk that the patient's individual needs are of secondary importance to revenue. This has long been the concern here at the American Physical Therapy Association (APTA) and it is why we have fought so hard, alongside our partners in the AIM Coalition, against physician-owned physical therapy services (POPTS)," American Physical Therapy Association President Sharon Dunn, PT, PhD, OCS, stated in a press release.
"This study provides further evidence that when the bottom line takes precedence in healthcare, the patient loses. A patient's welfare and recovery should always be the primary focus of treatment."
The researchers looked at more than 3,000 patients who underwent total knee replacement surgery. Out of all of these, nearly 19 percent were found to be completed through a physician self-referral process while 72.3 percent of cases did not have a doctor who had "ownership interest in physical therapy services."
The findings show that treatment in a physician-owned physical therapy setting lasted a week longer than services not affiliated with the referring physician. About twice as many visits were seen in physical therapy offices in which the referring doctor had a financial stake.
The issue seems to be that, in physician self-referral cases, patients were more likely to receive group therapy instead of individual, one-on-one care, which tends to extend the amount of visits needed to complete treatment.
This type of physician self-referral practice may improve revenue for an individual physical therapy clinic, but it only increases overall healthcare spending and negatively impacts patient care, the researchers wrote. In order to meet the Triple Aim of Healthcare, providers will need to look beyond their own revenue cycle and consider patient needs first.
| | |
| --- | --- |
| Posted on February 23, 2016 at 11:40 AM | |
For any years we have thought anatomy as a completed science. Aparrently NOT! Researchers have found a new muscle! 
Introducing The Tensor Vastus Intermedius!
Introducing a new muscle almost as elusive as the legendary Bigfoot. In 2014 it was the anterolateral ligament this year it is the tensor vastus intermedius I wonder what will come next!
This is a New Muscle.
A research paper release in the Journal Clinical Anatomy details a newly described muscle as part of the quadriceps. This muscle lies between the vastus lateralis and the vastus intermedius, and is named the tensor vastus intermedius.
Found on All 26 Bodies
Researchers were able to identify this muscles on all 26 of the cadavers in the study; it was also determined that the tensor vastus intermedius is supplied by independent muscular and vascular branches of the femoral nerve and lateral circumflex femoral artery.
What are the Implications?
As an anatomy nerd this new scientific discovery caught my eye. Even though the implications for therapists will likely be minimal due to the relative size of the muscle. This new discovery serves as a reminder that our knowledge of the human form and function is constantly evolving.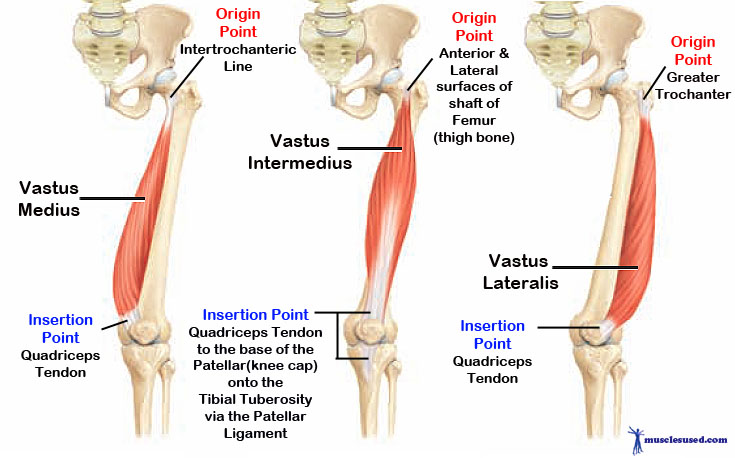 /