Shopping Cart
Your Cart is Empty
There was an error with PayPal
Click here to try again
Thank you for your business!
You should be receiving an order confirmation from Paypal shortly.
Exit Shopping Cart
| | |
| --- | --- |
| Posted on January 23, 2020 at 1:05 PM | |
Somewhere at around the mile 8 marker of my 20 mile run a few weeks ago, I felt a familiar (and terrifying) sensation: My leg was beginning to cramp up and I wasn't even halfway through my run. Having experienced this just one time before—and it ruined a marathon for me—I decided to use it as an opportunity to work on my problem-solving skills. I calmed down, increased my salt intake and used mental mantras to get myself through the run. And as soon as the run was over, I called my doctor of physical therapy (DPT) and scheduled an appointment for the next week.
I found my DPT late last fall after a painful marathon (involving that first cramping experience) that I followed up with another marathon in hopes to erase the pain of the previous one. I then 'ran' a race on an icy path and after that, I knew I needed to see a professional about my out-of-whack body. It was probably one of the best decisions I made. I learned that like many runners, my hips and glutes were weak, causing all sorts of problems.
Over the next few months, we worked through my problems and I got stronger and faster. My visits moved from twice a week to once a week, then to once a month and finally to maintenance visits every six weeks or so. When I was 'cleared' by my DPT, I decided to keep a standing appointment every two months just to keep myself honest regarding my drills and form. Having a professional to call when things don't go as planned has been invaluable.
After my painful 20-miler, I went into my DPT's office and told her what happened. She began massaging my tight calf and said, "Yep—glad you came in because this could've absolutely blown up into something awful." As we moved from the massage to dry needling (not the most comfortable thing in the world, but tolerable), I just thought about how glad I was that I had someone I could call when things like a terrible calf cramp happened. A year ago, I would've just tried to continue to run through it and probably would've ended up doing something to make it worse.
Physical therapy is not free, so I know it's a luxury for me to be able to go every two months or so, but it's worth the cost to be able to stay running healthily. Even if you just go once to get evaluated, I would recommend not ignoring those little (or not so little) pains that just won't go away. Let a professional help you fix it and become a stronger runner. I know I'm so grateful that I did.
Do you have a DPT you can call if you feel injured?
| | |
| --- | --- |
| Posted on April 19, 2019 at 9:00 AM | |
This morning I woke up and was greeted with many a sneeze. Most of us living in the Ohio Valley are plagued every spring and fall by seasonal allergies. Sometimes these little nuisances come and go, other times they stay and become a problem. Especially if one has chronic sinus infections and/ OR ear infections. Our dynamic skull requires air resistance to continue to function properly in our day to day lives. If something such as a sinus infection, trauma, ear infection, or other malady is present for a long period of time, our skull does not recieve the normal air resistance it needs to maintain compliance and therefore have normal function. Dysfunctions of the cranial bones can present in many ways, too many to list here, but if someone has had chronic sinusitis they may benefit from cranial manual therapy. Cranial manual therapy are gentle techniques that encourage our skull to become compliant with its dynamics again which allow for normal function of the cranial bones. What this means for a person suffering from chornic sinus infections, is less pain, less clogged sinus cavities and less headaches. Cheers to Spring!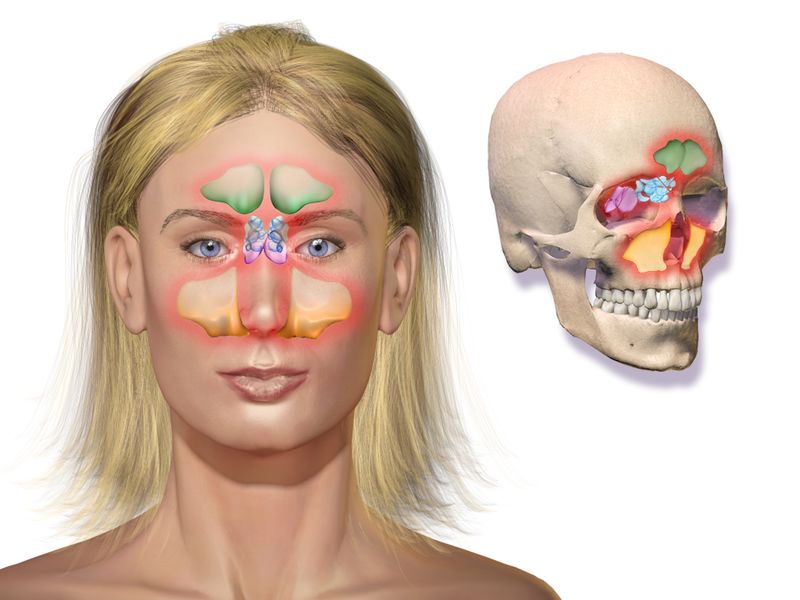 | | |
| --- | --- |
| Posted on March 2, 2018 at 10:20 AM | |
What is Musculoskeletal Ultrasound?
Ultrasound imaging uses sound waves to produce pictures of muscles, tendons, ligaments and joints throughout the body. It is used to help diagnose sprains, strains, tears, and other soft tissue conditions. Ultrasound is safe, noninvasive, and does not use ionizing radiation.
 
What is Ultrasound Imaging of the Musculoskeletal System?
Ultrasound is safe and painless, and produces pictures of the inside of the body using sound waves. Ultrasound imaging, also called ultrasound scanning or sonography, involves the use of a small transducer (probe) and ultrasound gel placed directly on the skin. High-frequency sound waves are transmitted from the probe through the gel into the body. The transducer collects the sounds that bounce back and a computer then uses those sound waves to create an image. Ultrasound examinations do not use ionizing radiation (as used in x-rays), thus there is no radiation exposure to the patient. Because ultrasound images are captured in real-time, they can show structures under the stresses they endure with normal movement. It is this unique property that allows us to see compromises of ligaments and tendons quite easily.
 
 
What are some common uses of the procedure?
Ultrasound images are typically used to help diagnose:
• Tendon tears, or tendinitis of the rotator cuff in the shoulder, Achilles tendon in the ankle and other tendons throughout the body.
• Muscle tears, masses or fluid collections.
• Ligament sprains or tears.
• Inflammation or fluid (effusions) within the bursae and joints.
• Early changes of rheumatoid arthritis.
• Nerve entrapments such as carpal tunnel syndrome.
• Benign and malignant soft tissue tumors.
• Ganglion cysts.
• Hernias.
• Foreign bodies in the soft tissues (such as splinters or glass).
• Dislocations of the hip in infants.
• Fluid in a painful hip joint in children.
• Neck muscle abnormalities in infants with torticollis (neck twisting).
• Soft tissue masses (lumps/bumps) in children.
 
Mindful Observation
This exercise can be simple but powerful by helping you start to appreciate seemingly simple elements of your environment.
 
The exercise is designed to connect us with the beauty of the natural environment, something that is easily missed when we are rushing around in the car or hopping on and off trains on the way to work.
 
1 Choose a natural object from within your immediate environment and focus on watching it for a minute or two. This could be a flower or an insect, or even the clouds or the moon.
2 Don't do anything except notice the thing you are looking at. Simply relax into watching for as long as your concentration allows.
3 Look at this object as if you are seeing it for the first time.
4 Visually explore every aspect of its formation, and allow yourself to be consumed by its presence. Notice the color, shapes, textures, movements, and sounds.
5 Allow yourself to connect with its energy and its purpose within the natural world.
Throughout the month of March give your mindful observation a try. When waiting for a friend or family member practice this observation. Don't forget about your breathing and continue to practice the mindful breathing you practiced last month.
 
 
| | |
| --- | --- |
| Posted on January 31, 2018 at 9:10 AM | |
An article appearing on January 3, 2018 in Nutritional Neuroscience describes a randomized, double-blind, placebo-controlled trial that resulted in a reduction in migraine duration, frequency and severity, as well as a lower levels of calcitonin gene-related peptide (CGRP) and tumor necrosis factor-alpha (a marker of inflammation) among participants who received daily supplements of coenzyme Q10 (CoQ10)
The trial included 45 women aged 18 to 50 years diagnosed with episodic migraine. In addition to migraine prophylactic medication, 23 participants received 400 milligrams CoQ10 per day and 22 participants received a placebo for three months. Serum CoQ10, CGRP, tumor necrosis factor-alpha (TNF-a), and other factors were measured at the beginning and end of the study.
Migraine severity, duration, and frequency per month were lower at the end of the study among those who were given CoQ10 compared to the placebo. In addition to a rise in serum CoQ10 levels, women who received CoQ10 experienced a reduction in TNF-a and CGRP at the end of the treatment period. "There is a correlation between neurologic inflammation and CGRP release in migraine," Monireh Dahri and colleagues explain. "Likewise, CGRP transcription can be stimulated by endogenous inflammatory molecules, such as TNF-a, which increases the CGRP promoter activity and actuates MAPK pathway. In our study, reduction of TNF-a in CoQ10 treated group was accompanied with CGRP decrease, which can be explained by the above-mentioned mechanism."
"As migraine patients have higher level of inflammation and have been reported to have CoQ10 deficiency, CoQ10 supplementation may be a beneficial complementary treatment in migraineurs," they suggest.
| | |
| --- | --- |
| Posted on September 15, 2017 at 10:00 AM | |
Great Tumblers a patient made us. We are so fortunate to work with such a great group of people!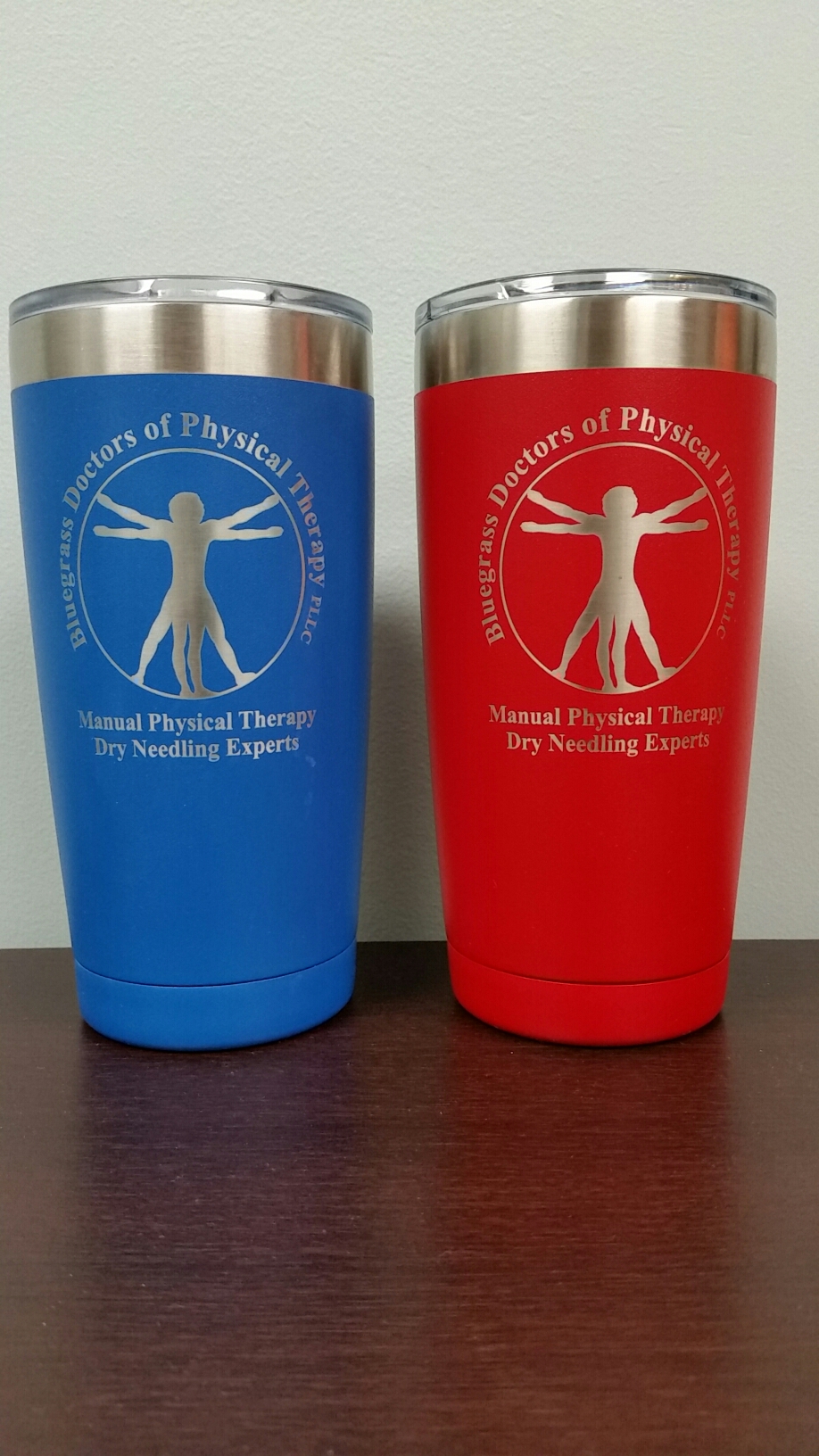 | | |
| --- | --- |
| Posted on August 24, 2017 at 10:15 AM | |
Temporomandibular joint dysfunction
 
 
Introduction
The temporomandibular joints (TMJ) connect your lower jaw to your skull. There are two matching joints, one on each side of your head, just in front of your ears. They let your jaw move up and down and from side to side.
The abbreviation "TMJ" refers to the joint but is often used to refer to any problems with the joints. Such problems include:
Popping sounds in your jaw
Not being able to completely open your mouth
Jaw pain
Headaches
Earaches
Toothaches
Other types of facial pain
Most people with TMJ problems have pain that comes and goes, but some have chronic (long-term) pain.
 
Signs and Symptoms
TMJ problems often cause the following symptoms:
Pain, particularly in the chewing muscles or jaw joint or an ache around your ear
Limited movement or locking of the jaw
Pain in the face, neck, or shoulders, or near the ear
Clicking, popping, or grating sounds when opening your mouth
Trouble chewing
Headache
A sudden change in the way your upper and lower teeth fit together
Also, sometimes earaches, dizziness, and hearing problems
 
What Causes It?
Sometimes TMJ dysfunction can be caused by an injury, such as a heavy blow, to the jaw or temporomandibular joint. But in other cases there may not be a clear cause. Other possible causes include:
A bad bite, called malocclusion
Orthodontic treatment, such as braces and the use of headgear
Wearing away of the disk or cartilage in the joint
Stress or anxiety. People with TMJ problems often clench or grind their teeth at night, which can tire the jaw muscles and lead to pain.
 
Who is Most At Risk?
The risk for TMJ problems may be higher with these factors:
Gender: more women than men seek treatment
Age: people ages 30 to 50 have the most problems
Children and adolescents with arthritis
Grinding teeth, clenching jaw
Malocclusion (bad bite)
High stress levels
 
What to Expect at Your Provider's Office
 
Your health care provider will check muscles in the area of the TMJ, and will:
Look for asymmetry or inflammation in your face
Listen for joint clicking or scraping sounds
Test the range of motion in your jaw
Look at your teeth for evidence of jaw clenching or teeth grinding
If you are having any neurological symptoms, such as numbness, your provider will give you a neurological exam. Your provider may also order imaging tests, such as an x-ray, computerized tomography (CT) scan, or magnetic resonance imaging (MRI) scan to look for degenerative disease or disk problems.
 
Treatment Options
 
Prevention
Reducing stress and keeping yourself from grinding your teeth or clenching your jaw may help prevent TMJ problems or lessen the symptoms.
 
Treatment Plan
In many cases, you can treat TMJ dysfunction at home. Your doctor may:
Ask you to change your eating habits: cut food into small pieces, avoid too much chewing, and stop chewing gum.
Give you exercises that stretch the muscles around your jaw.
Your doctor may also recommend:
If your bite is out of alignment, your dentist may suggest you wear a biteplate over your teeth to help bring your upper and lower jaw into alignment.
If you grind your teeth in your sleep, you may be asked to wear a night guard over your teeth.
If stress is causing you to clench your jaw, your doctor may suggest stress reduction techniques or cognitive behavioral therapy to help you manage anxiety and tension.
 
Drug Therapies
Your doctor may recommend the following medications:
Nonsteroidal anti-inflammatory drugs (NSAIDs): to relieve pain. These drugs include ibuprofen (Advil, Motrin) and naproxen (Aleve).
Minor tranquilizers or muscle relaxants at bedtime to reduce spasms and pain.
Injections of a local anesthetic.
Corticosteroid injections, for severe cases.
Botox (botulinum toxin A) injections: can reduce muscle spasms
 
Surgical and Other Procedures
In some cases, removing fluid from the joint may help reduce pain, especially for people whose jaws lock. When other measures have failed, surgery may be needed to repair or take out the disk between the temporal bone and the jaw.
 
Complementary and Alternative Therapies
A comprehensive treatment plan for TMJ dysfunction may include a range of complementary and alternative therapies (CAM). Work with a health care provider who has experience treating TMJ and be sure to tell all of your doctors about any medications, herbs, and supplements you are taking. Treatments, including physical medicine, may help.
 
Nutrition and Supplements
The following nutritional tips may help prevent or reduce symptoms of TMJ dysfunction:
Eat soft foods high in flavonoids, such as cooked fruits and vegetables. Flavonoids are plant-based antioxidants that may help decrease joint pain.
Avoid saturated fats, fried foods, and caffeine. These foods may increase inflammation.
DO NOT chew gum.
 
Some supplements that may help:
Glucosamine: may reduce pain and help rebuild cartilage in the joint, which helps improve range of motion. Some studies show that glucosamine helps reduce pain in people with arthritis, which involves painful joints. One study found that glucosamine worked as well as ibuprofen (Advil, Motrin) for relieving pain and other TMJ symptoms. Glucosamine is often combined with chondroitin sulfate. Glucosamine may increase the risk of bleeding, especially if you also take blood thinners like warfarin (Coumadin), clopidogrel (Plavix), or aspirin. Some doctors think glucosamine might interfere with medications used to treat cancer. Ask your doctor before taking glucosamine and chondroitin.
Vitamin C: is also used by the body to make cartilage. It may improve range of motion in your joints, including your jaw, although there are no scientific studies investigating vitamin C for TMJ problems. Vitamin C supplements may interact with other medications, including chemotherapy drugs, estrogen, warfarin (Coumadin), and others.
Calcium and magnesium: may help the jaw muscle relax, although there are no scientific studies using them for TMJ problems. Magnesium and calcium interact with several medications, herbs, and supplements. They can also affect your heart and blood pressure, so be sure to tell your doctor before you take them.
 
Herbs
The use of herbs is a time-honored approach to strengthening the body and treating disease. Herbs, however, can trigger side effects, and can interact with other herbs, supplements, or medications. For this reasons, take herbs with care, under the supervision of a health care provider.
Cramp bark (Viburnum opulus) and lobelia (Lobelia inflata) may help reduce muscle spasms, although there are no scientific studies to support using them for TMJ problems. Rub 5 drops tincture of each herb into joint. Use on the skin only and do not apply to broken skin. DO NOT take these herbs by mouth (orally).
 
Homeopathy
Although few studies have examined the effectiveness of specific homeopathic therapies, professional homeopaths may consider the following remedies for the treatment of TMJ dysfunction based on their knowledge and experience. Before prescribing a remedy, homeopaths take into account a person's constitutional type, includes your physical, emotional, and psychological makeup. An experienced homeopath assesses all of these factors when determining the most appropriate treatment for each individual.
Causticum: for burning pains
Hypericum perforatum: for sharp, shooting pains
Ignatia: for tension in the jaw
Kalmia: for face pain, especially with other joint pains or arthritis
Magnesia phosphorica: for muscle cramps
Rhus toxicodendron: for pains that feel better in the morning and in dry weather, and worse after movement or in wet weather
Ruta graveolens: for pains from overuse or injury
Physical Medicine
Contrast hydrotherapy, which is alternating hot- and cold-water applications, may:
Lower inflammation
Provide pain relief
Speed healing
Use hot packs and ice wrapped in a clean, soft cloth and apply to area. Alternate 3 minutes hot with 1 minute cold. Repeat 3 times for 1 set. Do 2 to 5 sets per day.
 
Acupuncture
Very good evidence suggests dry needling can treat TMJ dysfunction. Several well-designed studies found that needling therapies can relieve pain long term for TMJ problems.
 
Manipulation
There is some Evidence that Cervical manipulation as well as manipulation to the TMJ as well can help with TMJ dysfunction and restore range of motion
 
Craniosacral Therapy
This therapy is a very gentle form of body work. Practitioners use their hands to get rid of restrictions in the craniosacral system, the fluid and membranes surrounding the spine and brain. Although there are not many studies, some people say they feel better after craniosacral therapy. Find a practitioner who has training and experience with TMJ problems. You can interview several practitioners before deciding which one is right for you.
 
Massage
Some types of massage and chiropractic manipulation may help:
Reduce muscle spasms
Provide pain relief
Prevent symptoms from coming back
 
 
Biofeedback
Biofeedback teaches you how to reduce muscle tension through relaxation and visualization techniques. At first, sensors are placed on your jaw, and a machine shows the amount of tension in your muscles. Using relaxation and visualization techniques, you learn to reduce the amount of tension around your jaw while the machine provides instant feedback so you can see how you are doing. Once you have mastered the technique, you can do the relaxation and visualization techniques anywhere, without the machine.
Improving posture
Two types of movement therapy can sometimes help treat TMJ problems: the Alexander technique and the Feldenkrais method.
The Alexander technique teaches you how to properly align your head, neck, and spine, and move your body. It can help relieve tension in your head and jaw muscles, which may reduce the symptoms of TMJ dysfunction.
The Feldenkrais method teaches you to recognize bad posture habits and movements that cause your body to tense. It is a gentle therapy aimed at making you more aware of how your body moves, and helping you develop an inner awareness of your body. Feldenkrais is popular with dancers and musicians, who often do repetitive motions that can lead to overuse injuries.
 
Prognosis and Possible Complications
About 75% of people with TMJ problems who follow a treatment plan with more than one treatment find relief. In rare cases, long-term teeth clenching or grinding, injury, infection, or connective tissue disease may cause degenerative joint disease or arthritis. If you have severe grinding, a nighttime bite guard worn inside your mouth may help.
 
Following Up
You may need to see your health care provider regularly to make sure your treatment plan is working for you.
 
| | |
| --- | --- |
| Posted on February 7, 2017 at 7:55 AM | |
Mini Workouts You Can Do At Work!
What does exercise have to do with running a successful healthcare business?
More than you think. Everyone knows exercise has significant health benefits, but what about its cognitive benefits?
Research shows that regular exercise dramatically improves job performance and productivity. According to a study cited in Harvard Business Review, it "enables us to soak in more information, work more efficiently, and be more productive." Here are some of the perks:
Improved concentration
Sharper memory
Faster learning
Prolonged mental stamina
Enhanced creativity
Lower stress
Although many healthcare professionals know and preach the benefits of exercise, finding the extra time to do it themselves can be a challenge. They're already overstretched and overworked as it is, running a successful healthcare business and taking care of family responsibilities. But, there is a solution!
Make short bursts of exercise part of your daily routine. A few minutes every couple of hours isn't going to sabotage your schedule or quality of patient care. In fact, it will increase your energy and focus, so you can deliver the level of care and service your patients and customers deserve.
Other Ways To Sneak In Exercise At Work
Do a set of 20 push-ups every morning when you wake up.
While you're waiting to use the bathroom at work, do 30 squats.
Set your timer to go off every 30 minutes to an hour. Then, run up and down the stairs or do push-ups for 1 minute.
Ride your bike to work.
Grab a fellow employee and take a walk around the block or the parking lot.
Park farther away, so you increase the number of steps you walk.
Take the stairs instead of the elevator.
For your next meeting, have a walk-and-talk around the block or parking lot.
Have a daily or weekly push-up challenge with everyone at the office.
Before each meeting, have everyone do 30 squats or 30 push-ups.
Run up and down the stairs for 3 minutes 3 times a day.
Switch out your office chair for a stability ball.
All It Takes Is A Few Minutes A Day
Research shows it can take as little as 10 minutes a day to see results. You may not become the next Ironman, but you and your medical team will be in better shape to deliver quality care and superior service.
| | |
| --- | --- |
| Posted on August 8, 2016 at 8:00 PM | |
If you have watched any of the Olympics as of late, the big buzz is Michael Phelps Circular bruises. Almost covered more intensly than the events themselves. He undergoes a procedure called Cupping. Cupping has been around for centuries. Used in various cultures around the world it is thought to improve blood flow (reducing stagnation), improve Chi, (energy) and liberate toxins from an area that is haing pain or dysfunction. There are many ways to utilize myofascial cups to aid in pain reduction and to improve tissue texture. We can lengthen fascia, and improve flexibility as well as reduce pain. The mechanisms that are truly happening are a bit ore enigmatic but are thought to involve actually causing a localized inflammatory response to allow a chronic injury to heal appropriately and thus pain can be alleviated. 
However, one does not have to come out looking like he/she had a hot date with an octopus to get benefit from this technque. At Bluegrass Doctors of PT we utilize cupping techniques that most often do NOT leave bruises. Unlike Dry Needling this technique is non invasive, completely safe with relatively no contraindications. It is a wonderful adjunctive therapy, to needling, Laser therapy, manipulation and exercises. It however, in my opinion is not a stand alone technique.
Follow us on Twitter, and Facebook. #OlympicCupping. 
| | |
| --- | --- |
| Posted on July 16, 2016 at 8:40 AM | |
In the past 10 years, computers and cellphones have become one of the most important factors in our lives, and one which has a tremendously negative impact on our muscles. Muscle tension may be one of the causes of sleep disturbance. Tension in the shoulders and neck can affect blood circulation to the muscles. This research uses a dry needling treatment to reduce muscle tension in order to determine if the strain in the head and shoulders can influence sleep duration. All 38 patients taking part in the testing suffered from tinnitus and have been experiencing disturbed sleep for at least one to five years. Even after undergoing drug therapy treatments and traditional acupuncture therapies, their sleep disturbances have not shown any improvement. After five to 10 dry needling treatments, 24 of the patients reported an improvement in their sleep duration. Five patients considered themselves to be completely recovered, while 12 patients experienced no improvement. This study investigated these pathogenic and therapeutic problems. The standard treatment for sleep disturbances is drug-based therapy; the results of most standard treatments are unfortunately negative. The result of this clinical research has demonstrated that: The possible cause of sleep disturbance for a lot of patients is the result of tensions in the neck and shoulder muscles. Blood circulation to those muscles is also influenced by the duration of sleep. Hypertonic neck and shoulder muscles are considered to impact sleeping patterns and lead to disturbed sleep. Poor posture, often adopted while speaking on the phone, is one of the main causes of hypertonic neck and shoulder muscle problems. The dry needling treatment specifically focuses on the release of muscle tension.
Check out the full article here! 
| | |
| --- | --- |
| Posted on July 13, 2016 at 8:35 AM | |
Can new devices match Heimlich to stop choking?
Published July 13, 2016
The Wall Street Journal
The Ache: Nearly 5,000 people a year die from choking in the U.S., according to the nonprofit National Safety Council.
The Claim: Two new easy-to-use devices work like plungers to suck out obstructions in the airway, providing another option if standard treatment—such as abdominal thrusts developed in 1974 by Henry Heimlich—fail to clear the airway, say the companies who sell them.
The Verdict: A recently published laboratory study showed the LifeVac, from LifeVac LLC of Springfield Gardens, N.Y., dislodged simulated obstructions. So far there haven't been any scientific publications detailing lives saved with the LifeVac or another device, from Dechoker LLC, of Salisbury, N.C.
More on this...
96-year-old Heimlich uses namesake maneuver on choking woman
Autistic NYC boy says 'SpongeBob' taught him Heimlich
The ubiquitous choking poster gets a makeover
Both the Dechoker, $89.95, and the LifeVac, $69.95, have a plastic mask that provides a seal over the mouth and nose while suction is provided. The Dechoker looks like a large syringe, while the LifeVac's plunger is shaped like a small accordion. In both devices, one-way valves allow air to only travel out of the mask and not into it, which avoids pushing the object deeper in, says LifeVac Chief Executive Arthur Lih.
/